Ash class is the name of the combined Reception and Year One class at Wirksworth Church of England Infant School.
Mrs Emery is the class teacher and Mrs Chapman, Mrs Flitter and Mrs Rapkin are the Teaching Assistants in our class on different days.
We have a large, bright classroom and a door out on to our outdoor play area. We're next door to the school office, so Mrs Haynes gets lots of visitors!
We like to go on walks around Wirksworth with our friends from the WI Reception/Year One Class - finding out how the local environment changes through the seasons as well as other curriculum-based fact finding activities like finding numbers in the environment.
The tradition of making well dressings is an integral part of the Wirksworth festival. We are dressing our well on the theme of the jubilee.
PE -This week we met Mrs Mitchell who is taking us for PE and played lots of games.
Balance ability - Today Mrs Price came in to school and showed us skills to support riding a bike. We had a lot of fun!
Ice pictures. We have used paint in shaving foam to make these ice pictures. We added boulders/blocks of ice and animals to give the overall effect.
Pancake Day - March 1st 2022
What a lovely day we had today! It all started when Mrs Birch showed us how to make a pancake in the cloud room. We then ate some pancakes topped with some lovely toppings and this afternoon we had races, running along the playground flipping our pancakes as we went.
Easter Eggs - today we made our own class Easter Egg!
Cross Country - Reception children from both schools came to the CofE site to take part in a cross country event. They enjoyed themselves immensely and afterwards enjoyed playing together in the outdoor classroom.
Jubilee themed Library visit. Today we went to the library where a wonderful storyteller told us stories 'without books'. She was wonderful and the children were enthralled by her charismatic story telling.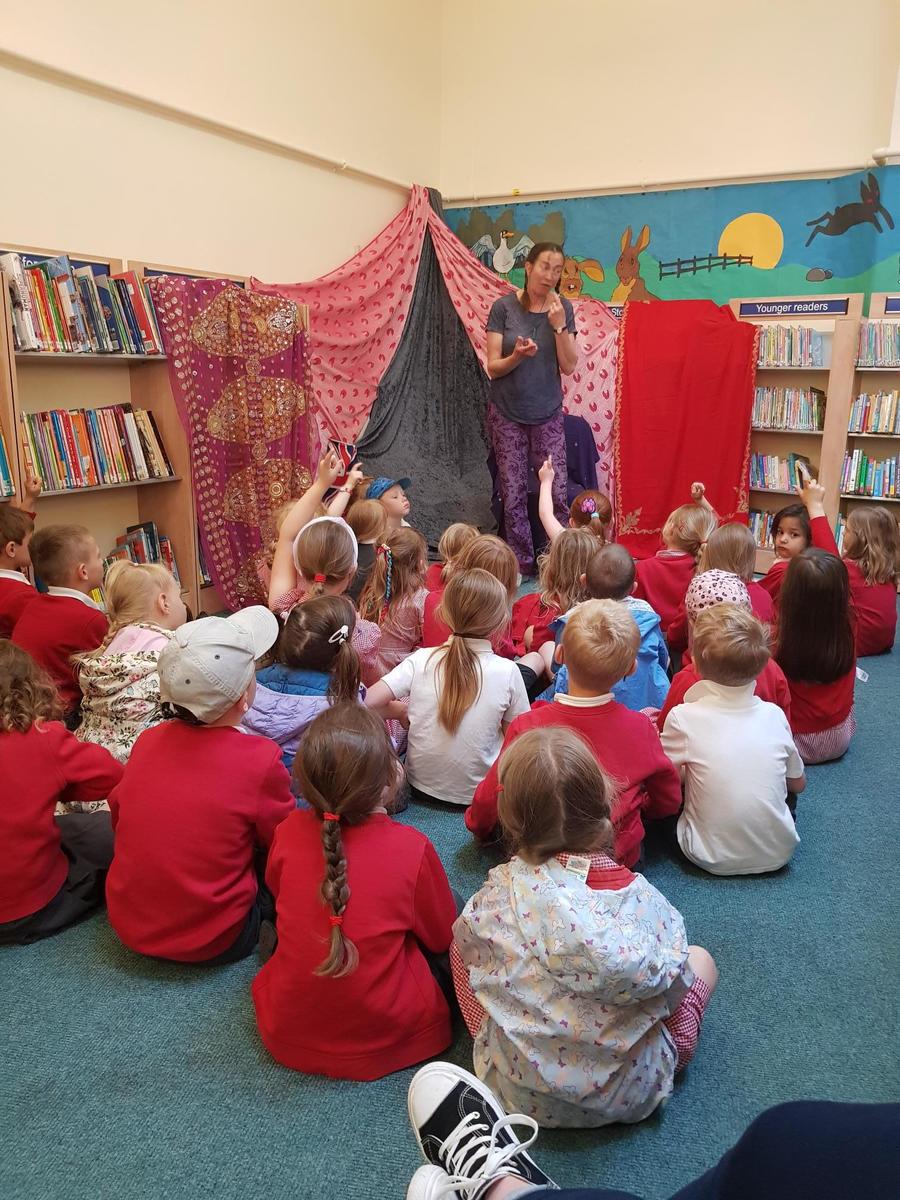 Today we looked at some African snails which belong to George. They were amazing.
After reading the story 'The Wind Blew'; we went outside and explored the wind with weather socks/ scarves and windmills. We had a lovely time!
We are studying Henri Rousseau in Art. His famous painting 'Surprise' was the stimulus for lots of exploratory work with pastels which we put together after the lesson to make our own painting.
Today we went on a walk to look for signs of Autumn. . We found lots of brightly coloured leaves and noticed there were lots of dead grasses and plants in the hedgerow. We had a lovely time but had to wrap up warm because it really is beginning to feel autumnal.
Bonfire Art - After sharing our experiences of Bonfire Night we used our hands to 'paint' a bonfire. Afterwards we added some fireworks to finish our pictures.
Woolly the Sheep Nativity in St Mary's Church
Today we performed our Christmas Nativity, 'Woolly the Sheep' . We acted out the story well and sang beautifully. Here is a picture of us in our outfits......
Science - today we were looking at how polar bears stay warm in the arctic. We wanted to find out how effective blubber was to keep polar bears warm so we put our hands in freezing cold water. One hand was covered in fat (blubber) and the other hand was left without. The hand which was covered in fat stayed warm. It proved how effective blubber is against the cold water.
WORLD BOOK DAY
Today we had a lovely day sharing our favourite stories, dressing up as characters from our favourite stories and going to the library to hear stories - read to us - and taking home a new book.
Easter Egg Hunt - today we had an Easter hunt in the playground looking for Easter Treats. Lots of children found their bags quickly while others helped friends or younger children find theirs. Everyone had a lovely time!
Balanceability..... so much fun!
We have been enjoying finding out about dinosaurs this week and using the dinosaur discovery area in the EYFS classroom.
Road Safety Assembly - Today as part of Road Safety Week PCSO Foster came in to school to tell us all how to stay safe on the pavements and roads.
Santa Train - Today we enjoyed journeying along the Ecclesbourne Valley Railway line to Duffield and enjoyed seeing Santa and some very noisy Elfs! For some of the children it was their first time on a train! We all had a lovely time.
Winter Walk - Today we went on a beautiful winter walk looking for signs of winter. We came back to school and created some amazing winter pictures.
Science Day - Bubbles
What an amazing morning we have had today and so much fun! The children carried out lots of investigations. They had to find out:-
If the bubbles in fizzy water could lift everyday foodstuffs and why.
They had to see if bubbles were always spherical when formed even when blown through a triangular or square shaped wand.
How bubbles are formed and how they move and many other activities.
Look at the pictures below to see our amazing explorations.
School trip to Longshaw Estate.
Today we went to Longshaw Estate and enjoyed a 2 mile walk. We went through meadows, over several bridges and had a lovely picnic before walking up the hill back to the house! It was a lovely trip.